Limited edition - 3" DFC Society Challenge Coin Morale Patch
3" DFC Society Challenge Coin Morale Patch (Front and Back)
EXCLUSIVE RELEASE - Available Until Stocks Run Out!
Never be without a DFC Society Challenge Coin!
Presenting our meticulously crafted 3" waterproof PVC patch, designed to pay homage to the distinguished recipients of the Distinguished Flying Cross. Its hook/loop backing ensures a secure attachment, making it a steadfast companion during missions and activities.
Constructed from robust, waterproof PVC material, this patch is engineered to endure the harshest conditions, catering to the needs of dedicated servicemen and women on duty. Its detailed design encapsulates the essence of honor and achievement associated with the DFC Society.
And here's the exciting part - you'll receive patches for both sides of the challenge coin, all for one price!
Purchase yours today! - 50% of all proceeds are being donated to the DFC Society!
click here - Secure Yours today!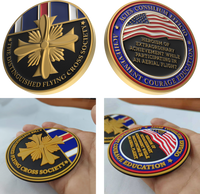 Introducing the DFC Society Challenge Coin Morale Patch (Front and Back) - An Emblem of Excellence!
Whether affixed to your uniform, tactical gear, or held as a cherished memento, the DFC Society Challenge Coin Morale Patch stands as a symbol of resolute support.
Join us in making a meaningful impact today!
CIPHER - A DFC Society Affiliate and Proud Partner
At CIPHER, empowering their clients is at the heart of what they do. With pride, CIPHER is committed in donating 50% of all proceeds, directly contributing to the DFC Society mission and cause.
click here - order today!