OGTA Educators Kit - Steve Pisanos 'The Mettle Behind the Merit'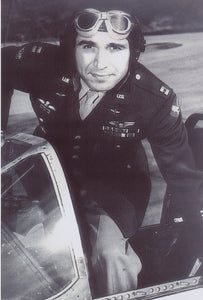 Bring Steve Pisanos' Mettle into Your Classroom or Group!
Few stories convey the American Dream as positively and informatively as Steve Pisanos'.  The following videos and 4-part downloadable Educator's Kit can become a powerful part of your Civics, Social Studies or History curriculum.
Civic and Youth organizations such as (but not limited to) Civil Air Patrol, Scouts, ROTC, DECA and Boys and Girls Clubs of America are also encouraged to consider this Educator's Kit as part of their ongoing work, too.
The Mettle Behind the Merit Educator's kit features never-before-published photography, artwork, quick-read discussion-starters and fresh insight into what it takes to succeed.  Additional content provided by award-winning historians John Mollison, Donald Nijboer and Dan Patterson.
The goal, however, is single-minded: encourage Americans of all-ages to consider their opportunity and resolve to meet it with positive effort and optimism.
However, while supplies last, cut-out, flyable models of Steve Pisanos' WWII Spitfire airplane are available to recognized educators and leaders, FREE.  A small fee is requested to cover postage and mailing costs.
View the 'The Mettle Behind the Merit' videos by clicking HERE.
Using TMBTM Educator Kit Package
The four* free main components of the TMBTM Educator Kit were designed to allow the individual teacher flexibility in addressing their specific needs.  Downloading, printing and distributing is encouraged but please respect the copyright and hard work of the many people who contributed by not altering content, hosting it or distributing it without written permission.
Interested in downloading the three free main components, click HERE.

*There's a fifth component—cut out models of Steve's Spitfire fighter plane!  Other than a minimum charge to cover shipping & handling, they're free, too. Click HERE to order.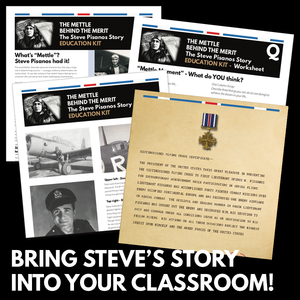 The TMBTM Educator Kit
This ten page .pdf uses the The Mettle Behind the Merit documentary as a launching point to challenge students to define their own dream of success and realize it through intelligent work and positive behavior.
Click HERE to download.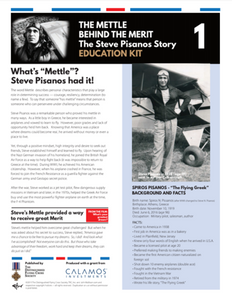 The TMBTM Photo Kit
Who doesn't like pictures?!  Many of the photos included are previously unpublished.  However, they provide historical and photographic insight into Steve Pisanos' fascinating career. 
Click HERE to download.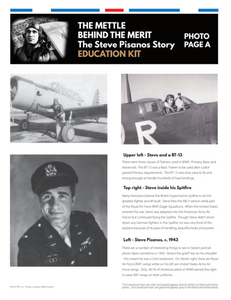 The TMBTM DFC Citations
The Distinguished Flying Cross is the United States' fourth highest award for bravery in flight.  All five of Steve Pisanos' DFC certificates are represented as they were written and awarded by the United States Army Air Force and United States Air Force.  These citations are succinct, direct and remain fascinating insight into how large organizations recognize excellence.
Click HERE to download.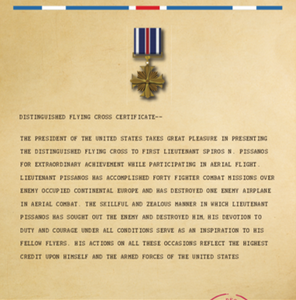 The TMBTM Worksheets
These worksheets provide the practical aspect of bringing The Mettle Behind the Merit into the classroom.  There are five pages and each one features two questions for students to thoughtfully and independently engage with Steve Pisanos' story.
Click HERE to download.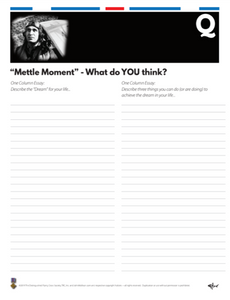 ORDER - Cut-Out PlaneCard™ Models of Steve Pisanos' Spitfire
While supplies last, teachers and leaders of schools and recognized youth/civic organizations can receive cut-out models of Steve Pisanos' Spitfire fighter plane. 20/pack - 40/maximum.

Click on image to the right to place your order today!
Film and Educator's Kit contents
Copyright © 2019 TRC, Inc.  All Rights Reserved.