Procedures for Establishing an Endowment for a "Named" Scholarship Grant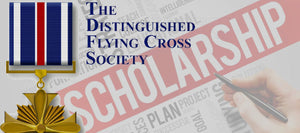 Leaving a lasting living legacy as a long term or perpetual endowment award through the Distinguished Flying Cross Society scholarship program is not difficult.
We have two arrangements for establishing Named Scholarships.
1. An Endowed (In perpetuity) Named Scholarship Fund ("Endowed"), whose endowment shall be in the amount of at least $50,000, and can be increased at the donor's discretion in increments of $2,500. In consultation with the DFC Society President/CEO, the DFCS Treasurer, and the DFCS investment advisor, the donor will establish the criteria for the annual scholarship amount. The annual scholarship amount is typically a percentage of the trailing three-year average of the fund balance with specific criteria for the first two years. The donor may specify academic, technical, or both types of scholarship.

2. An Annual, Multi-Year Named Scholarship Fund ("Named Annual") may be established by a donation of at least $50,000 which may be given over a maximum period of 10 years in at least $5,000 annual installments. The annual donation will be made available to the Named Annual fund not later than June of the up-coming academic year. Scholarships awarded from a Named Annual fund may be dispensed in the form of academic or technical scholarships, unless the donor specifies a choice of category. Within the annual contribution amount of a Named Annual fund, the number and amounts of the awarded scholarships shall be set with a minimum award of $1,000.
Please note that our general scholarship Ward Macauley Fund ("Macauley Fund") receives undesignated donations into a pool of money from various donors. Contributions to the Macauley Fund may be made at any time in any amount.

How to establish a Named Scholarship:
1. Decide whether your grant or scholarship is for four-year college academic programs, two-year vocational/technical programs, or both.

2. Decide on the "name" of your grant or scholarship. Currently we have two - the Colonel Bill Garner and Commander Evelyn Moy Scholarship and the RGT Charitable Remainder Trust Scholarship.

3. Determine the method of your gift.
a. Endowed Named Scholarship - pledge a fully endowed amount. Negotiate the payment date with the DFCS President/CEO.
b. Named Annual Scholarship - Pledge a specific dollar amount per year. Annual monies need to be donated no later than June 1st each year. The full amount donated will be used for the named scholarships for that year.

4. Determine the payment method of your gift.
a. Cash (check)
b. Electronic transfer of cash
c. Transfer of Appreciated Assets to a DFCS https://www.tracesofwar.com/default.asp (can provide escape from capital gains tax – speak with your tax advisor)
d. Direct Transfer of cash from your IRA Custodian to a DFCS Scholarship Investment Account (can satisfy RMD requirements – speak with your tax advisor)
e. Name the DFCS in your will or as a beneficiary of your life insurance

5. Communicate by letter or electronically to the DFCS President/CEO providing the requested name and arrangement (Endowed or Annual) of your grant or scholarship, type of program supported (four-year or two-year) and the amount and payment method of your donation. Specific instructions will then be provided on how to make the donation transfer.

The DFCS Finance Committee monitors the DFCS Scholarship Investment Accounts and provides guidance to the investment advisor(s). Oversight of the accounts is guided by a written Investment Policy Statement. Annually a CPA firm conducts a Compilation review, and at least every five years we have a complete Financial Review. These report findings are provided to the Board of Directors and can be made available upon request.