2023 DFC SOCIETY REUNION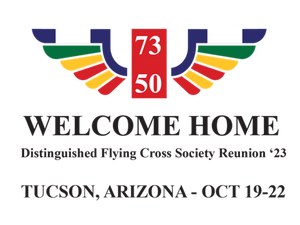 2023 Reunion - Outstanding Success!
The 2023 Reunion in Tucson AZ was an outstanding success – once again. We met at the Sheraton Tucson Hotel & Suites.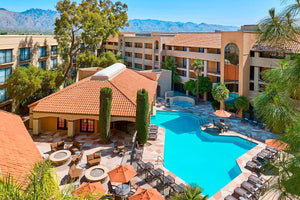 Reunion 50th Anniversary Challenge Coin
Our Reunion theme was "Vietnam War – 50 Years Later. Thank You
For Your Service" as we celebrated Distinguished Flying Cross
recipients and the 50th anniversary of the end of the Vietnam War.
We honored our Vietnam DFC recipients with our special Reunion Challenge Coin, designed by DFCS Honorary Member John Mollison of Old Guys and Their Airplanes.
General Ron Fogleman, USAF (Ret)
Once again, we had a high level of senior officer engagement and participation. Our Gala Banquet speaker was Gen Ron Fogleman, USAF (Ret), former Chief of Staff of the Air Force and a Misty FAC in Vietnam. Our Welcome Day Lunch speaker was Maj Gen
Don Shepperd, USAF (Ret), former Director of the Air National Guard and also a Misty FAC.
We were joined at several Reunion events by members of the Tucson Friday Pilots who are not members of the DFC Society but part of the Tucson military aviation
community.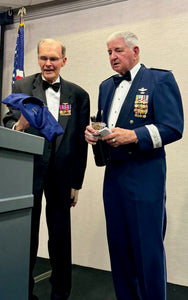 Media Coverage of Reunion
Tucson local media coverage was on hand. Crews from TV stations KOLD, KVOA, and KGUN were on scene to record their stories and interview DCS members. Scan the QR codes to view the coverages
KOLD
TUCSON, Ariz. (13 News) - Today, over 50 years since the last American troops withdrew from Vietnam, US veterans came together in Tucson to catch up on life after their time in the service.
One veteran, Colonel Bob Certain, was commissioned to the Air Force in 1969. He followed in his brother's footsteps, who served as a pilot. Bob served as a navigator.
He remembers the last years of the war like it was yesterday.
Read More CLICK HERE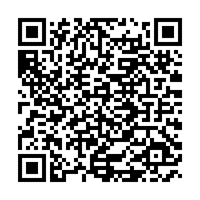 KVOA
TUCSON, Ariz. (KVOA) — It's a welcome home for those who served in Vietnam.
Over 100 decorated Vietnam war veterans are gathering in Tucson. 
"We join the military cause that's what we want to do, serve our country, and it's a duty and it's an honor that I performed that duty," said Marty Lenzini, VP of Chapter Development of Distinguished Flying Cross Society. "That's what makes America great, makes America strong."
Read More, CLICK HERE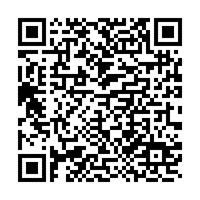 KGUN9
TUCSON, Ariz. (KGUN) — Over 100 distinguished veterans and their families are gathering together in Tucson for a four-day, biannual reunion and "Welcome Home" celebration for Vietnam Veterans, lasting from Thursday to Sunday, Oct. 22.
The Distinguished Flying Cross Society (DFC) is a non-profit veterans organization for those who are recipients of the Distinguished Flying Cross.
Read More CLICK HERE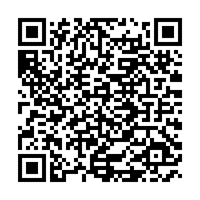 Supporting the Scholarship Program
As usual during the Reunion, we operated a store with proceeds to the Society's Operating Fund. We also held our Auction, which supports the Scholarship program. Together they generated gross proceeds of $7405 with the amounts to us pending final accounting with our store vendor priorservice.com.