Welcome to The Distinguished Flying Cross Society
The Distinguished Flying Cross Society is a 501 (c) 19 nonprofit war veterans' organization, and we are a membership association. Our mission is to Honor, Preserve, and Teach the Legacy of heroism or extraordinary achievement in aerial flight for which the DFC is awarded.
Our membership is comprised of individuals who were awarded the DFC, then joined the DFC Society or have had their names entered posthumously by a family member. Therefore, our Honor Roll is not a cumulative list of all recipients of the DFC. We only have information for those DFC recipients that have been in the DFCS. And unfortunately, the government did not keep a cumulative record of DFCs awarded.

For further information, please look at our Frequently Asked Questions (FAQs).
MESSAGE FROM THE DFCS PRESIDENT - CHUCK SWEENEY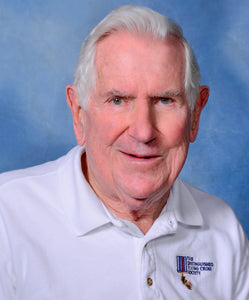 Whether you are a DFC recipient or just browsing to learn more about our rich history, we hope you enjoy our site.
The Distinguished Flying Cross (DFC) is our nation's highest award for extraordinary aerial achievement. As a valor decoration, it ranks fourth in order of precedence, and is awarded to recipients for heroism while participating in an aerial flight.  The Distinguished Flying Cross medal was established by an Act of Congress on July 2, 1926 and the first Distinguished Flying Cross citations were presented to the Pan American Good Will Flight pilots on 2 May 1927 by President Calvin Coolidge. President Coolidge also presented the first Distinguished Flying Cross medal, on 11 June 1927, to then Captain Charles A. Lindbergh of the Army Air Corps Reserve, for his solo flight of 33 ½ hours and 3600 statute miles. 
The Distinguished Flying Cross Society (DFCS) itself was founded in 1994, as a 501(c) (19) nonprofit war veterans' organization, headquartered in San Diego, CA, and is made up of those men and women who were awarded the Distinguished Flying Cross. The Society currently has more than 7,000 members and was founded on the fraternity and fellowship among military fliers.  All the DFCS recipient members are listed in perpetuity on our "Honor Roll".  Lindbergh, the 'Lone Eagle', as a legacy member of The DFCS is also there. 
We host biennial Reunions at convenient locations, of interest to DFCS members and their significant others, throughout the nation.  These three-day events build on the spirit of camaraderie among peers, provide a stimulating program of interest to all, and allow for learning about the deeds of fellow aviators. Our most recent Reunion was September15-19, 2019 in Dayton, Ohio with the theme "Celebrating 100 Years of American Air Power. It was the best Reunion ever and I was pleased to see many of our members and their families enjoying the camaraderie of old and new friends. 
DFCS Chapters are located around the country offering new friendships, stimulating events and programs, and the benefit of shared experiences.
At the national level, we provide the overall organizational umbrella for our membership and the chapters. We published "On Heroic Wings: Stories of the Distinguished Flying Cross", with the Foreword written by President George H. W. Bush and the Introduction written by Captain Jim Lovell; both recipients and members. The book is based on oral history accounts, Distinguished Flying Cross citations and other associated primary source documentation. The book is available on this website (and on Amazon) for everyone while other DFCS memorabilia is available to DFCS members. [Read BIO - click HERE]
DFC Society Featured Collection

Milbrandt Vineyards, a staunch supporter of the DFC Society, has created The Distinguished Flying Cross Society Wine Club.

DFC Society Wine Club Members will receive one of two six-bottle wine club special offerings twice annually, Spring and Fall. Milbrandt will allocate award winning wines from their collection, including handcrafted wines selected by Winemaker Kendall Mix and Owner Butch Milbrandt. Each six bottle allocation will contain two bottles of their limited-production wines.

HEROIC WINGS - Six bottles of mixed Red and White wines.
LONE EAGLE - Six bottles, all Reds.
DFCS Wine Club Members will receive a 20% discount. DFCS Wine Club Members will also receive special member pricing on all other wine purchases and VIP privileges to all Milbrandt Vineyards tasting rooms and events.

The DFC Society will receive 15% of all proceeds.

CLICK HERE to learn more, view the current offerings, and join today!
"...for heroism or extraordinary achievement while participating in aerial flight"