Wreaths across America - radio interviews
Lewis Watt, DFC Society Secretary
Lewis' received a civil engineering degree from Tufts University in1962 and a MSA degree from the George Washington University in 1972. His twenty-six-year Marine Corps Career included two combat tours in Southeast Asia, five years as a test pilot at Patuxent River, MD, and tours in Washington. Lewis flew a hundred different type/model/series of aircraft, four of them on his thousand hours of combat sorties. His assignments include command of the Cherry Point, NC, Aviation Depot, and Program Manager for the AV-8B Harrier program. Leaving the Corps, Lewis tried various R&D and management positions at the Applied Research Lab at Penn State University, co‑founding RLW Inc.  The company was acquired in 2008 by Impact Technologies LLC, in turn acquired by Sikorsky Aircraft Company. Lewis teaches
freshman engineering courses at Penn State.
Lewis' awards include: Legion of Merit (2 awards); meritorious Service Medal; Distinguished Flying Cross; Air Medal (29 awards); and Joint Service Commendation.
Lewis is a member of the Royal Aeronautical Society, the American Society of Mechanical Engineers, and The Distinguished Flying Cross Society.
Click HERE to Listen Now!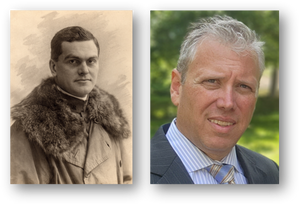 Byron Derringer, Great Grandson of WWI Aviator Captain James Ely Miller, both DFC Society Members
The Distinguished Flying Cross was established on July 2, 1926, with eligibility back to April 6, 1917 when the USA declared war on the German Empire. The intent was to make WWI aviators eligible. However, no DFC was awarded for WWI until Captain Miller's posthumous award to his family in June 2017. Capt. Miller remains the only DFC award for WWI. 
Captain James Ely Miller holds a significant place in the annals of American aviation, being recognized as the first American aviator killed in action serving with an American unit during World War I. He has the distinguished honor of becoming the first and only recipient of the Distinguished Flying Cross in WWI, and he also stands as the first U.S. Airman eligible for the Purple Heart due to his valiant sacrifice in air-to-air combat against the enemy while in service to the Armed Forces of the United States.
The live interview promises an intimate exploration of Captain Miller's unparalleled legacy, as Byron Derringer shares insights into the remarkable life and achievements of his great grandfather. Mr. Derringer will shed light on Captain Miller's vital role as the inaugural commander of the 3rd Aviation Instructional Center (3rd AIC) located in Issoudon, France. This pioneering center played an instrumental role in shaping aviation instruction and training that laid the foundation for all subsequent developments in the field of aviation. 
He went on to command the 95th Aero Squadron, and he taught Eddie Rickenbacker to fly. Rickenbacker would become America's most successful fighter ace of World War I.
Click Here to Listen Now!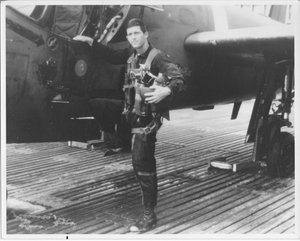 William S. Reeder, Jr. Ph.D., Colonel, U.S. Army (Retired), DFC Society Member - Coming Soon!
Two combat tours in Vietnam and POW, Army Aviator of the Year, Army Aviation Hall of Fame Member
William Reeder is a retired colonel and a thirty-year Army veteran with two tours of duty in Vietnam as an Army Aviator. He has more than three thousand hours of flight time including over one thousand hours in combat. During his second combat tour, he was shot down and captured by the communist North Vietnamese, spending nearly a year as a prisoner of war.  He wrote a book on that experience, Through the Valley: My Captivity in Vietnam, published by the Naval Institute Press in 2016. A second book, Extraordinary Valor: The Fight for Charlie Hill, about one of the most significant, yet little known battles of the Vietnam War, was published by Lyons Press in 2022.

He received two Distinguished Flying Crosses, one for his actions during an armed OV-1 Mohawk mission over Laos in 1969, and another for support to besieged South Vietnamese Rangers, as an AH-1G Cobra attack helicopter pilot, during the 1972 Easter Offensive. He was shot down on both missions.  His other military awards include the Silver Star, the Valorous Unit Award, and three Bronze Star Medals. He has three Purple Hearts, the POW Medal, Vietnamese Cross of Gallantry with Bronze Star, and numerous Air Medals (one with "V" device for valor). In 1977 he was named Army Aviator of the Year and was inducted into the U.S. Army Aviation Hall of Fame in 2014.
Click Here to Listen Now!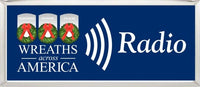 What is Wreaths Across America Radio?
Wreaths Across America Radio is a "Voice For America's Veterans." Wreaths Across America Radio shares content relevant to our Gold Star Families, Blue Star Families, military veterans and their families, and Wreaths Across America's millions of volunteers 24 hours a day, 7 days a week. We do this through a variety of veteran-centric programs, and interviews with Gold Star Families, Blue Star Families, veterans, and volunteers. This content is mixed with public service programming from our partner organizations, along with patriotic and contemporary country music, to provide an entertaining and informative line-up. Wreaths Across America Radio is easy to take with you anywhere you go! We are available on the iHeart Radio app, the Audacy app, and the TuneIn app. Wreaths Across America Radio will often broadcast live from major events and provide exclusive coverage of military-centric happenings that other organizations don't have access to. Tune in today to find out what you have been missing and learn more about how we Remember, Honor and Teach, all year round!
Informational and inspiring content about members of the U.S. armed forces, their families, military veterans, and volunteers throughout the country and overseas who support the mission to Remember, Honor, and Teach. 
SEARCH & LISTEN TO PREVIOUS INTERVIEWS
Interested in Interviewing?
Wreaths Across America conducts several programs to honor our veterans, including the popular "Thanks-A-Million" campaign, which distributes FREE thank-you cards to people all over the country to share with veterans as a simple thank-you for their service.
The group participates in veterans' events throughout the year and has a veteran liaison on staff to work with local veterans' organizations, as well as public outreach through Veterans Day and Memorial Day programs, public service announcements, press coverage and the WAA website.
Learn More!