ogta debrief video collection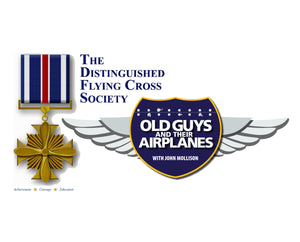 "Debriefs" are interviews with decorated combat veterans conducted live and allowing the audience a chance for Q&A with the veteran.  Aviation artist, writer and filmmaker John Mollison conducts the interviews.

The Distinguished Flying Cross Society and OGTA have partnered to brand these Debriefs as essential components of educating the general public - of all generations - on how individuals have served our country, heroically.
The first two inaugural "Debrief" events were extraordinarily successful, engaging an international audience.  Follow up contact with attendees has reinforced that "this" is an important way to reach others with the message that supports all the characteristics that warrant the award of "DFC."
Debrief #7 - Colonel John Mollison with Special Live Q&A Guest Warren Eastman
Join us on 28 January, 1:00pm CT for the Old Guys and Their Airplanes FILM PREMIERE of "Who's the Guy In Back?" Featuring 3x DFC recipient John Mollison + livestream Q&A with Mollison and featured guest, 2x DFC recipient Warren Eastman.
The livestream Q&A will be broadcast from Boys Town, Nebraska - previous home of Col John Mollison (and inspiration for the Academy Award winning film of the same name).
Livestream link will be active 1245pm, 28 January, click HERE for viewing.
Debrief #6 - Colonel Robert Certain (ret.)
On Saturday, 28 August, 2021, Vietnam Veteran and former Prisoner of War (POW) Col Robert Certain, USAF (Ret) will be featured in a live, streaming Q&A.  The moment is part of the award-winning historical documentary series produced by Old Guys and Their Airplanes (OGTA) and the Distinguished Flying Cross Society (DFCS).
Interested in learning more, please click HERE.


Debrief #5 - Colonel Marty Mahrt (ret.)
On May 10, 1966, Mahrt was shot down over hostile North Vietnam in what would be acknowledged as the furthest north 'shoot down' of the war. However, it resulted in an intensive effort resulted in a stunning rescue that many have called "miraculous." Mahrt flew the Republic F-105 Thunderchief, a supersonic fighter-bomber that experienced an astounding 38% loss rate primarily due to the type of missions assigned to the airplane.
Interested in learning more, please click HERE.
Debrief #4 - Captain Royce Williams (ret.)
Williams' mark on history was made on November 18 of 1952 when he faced seven Russian-flown MiG-15 fighter planes and  single-handedly downed at least four, flying a distinctly inferior aircraft. During the fight, Williams' F9F Panther received a number of hits that dramatically reduced the aircraft's ability to maintain controlled flight. Nevertheless, Williams was able to evade enemy fire and return to the carrier. Additionally, at 38 minutes, the dogfight was one-of, if not the, longest duration dogfights in American history.  
Interested in learning more, please click HERE.
Debrief #3 - Brigadier General Charles McGee (ret.)
Brigadier General McGee served in WWII, The Korean War and Vietnam War, accumulating an astounding 409 combat missions. His civilian service is marked by extensive honors including the nation's highest civilian award, The Congressional Gold Medal. Today, at age 100, he remains an active role model to youth, promoting his mantra of personal success, "Perceive, Prepare, Perform and Persevere." 
Interested in learning more, please click HERE.
Debrief #2 - Bruce Huffman, DFC Society Chairman Emeritus
Bruce's story featured his service as an Army Scout pilot (OH-6A) in 1968-69 and feature his harrowing experiences at nearly grass-level flushing out NVA.
Interested in learning more, please click HERE.
Debrief #1 - Pat Owen, DFC Society Treasurer
Pat Owen with 750 Vietnam War Sorties, Cobra Pilot, Operation Tailwind represented the team to rave reviews from a crowd that checked in from around the world.  Pat shared his DFC experience during Operation Tailwind and along the way, brought us up to speed on the Cobra, media relations and the power of good friendships.
Interested in learning more, please click HERE.
Steve Pisanos 'The Mettle Behind the Merit'
Few stories convey the American Dream as positively and informatively as Steve Pisanos'. 
Interested in learning more, please click HERE.