PODCASTS - DFC SOCIETY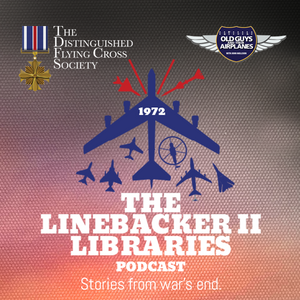 LINEBACKER II 50TH ANNIVERSARY
Linebacker II was the Operation that ended the Vietnam War for the United States and brought the POWs home. "The Linebacker II Libraries" is four-part podcast hosted by Linebacker II veteran Ron Bartlett and aviation artist, filmmaker John Mollison. Together, Ron and John talk with Vietnam War veterans about the war and their related experiences.Featured in this podcast are prerecorded audio clips of people particularly affected by the Linebacker II Operation including POWs, family of POWs, aircrew, ground crew and strategic leaders. An additional feature is a short Educator's Supplement that contains original photography, illustration, podcast guest bio information and artwork. The Linebacker II Libraries is a production of The Distinguished Flying Cross Society as part of their ongoing effort to promote their members and values of Achievement, Courage and Education. 
EPILOGUE - LINEBACKER II 50TH ANNIVERSARY
EPILOGUE: Friday, November 11: The call-in recordings used in the production of The Linebacker II Libraries podcast have proven to be extraordinarily interesting.
Integrated into each Episode's production, the recordings are excellent 'tone-setters.'  But together, as a unit, they take on a quality of their own.
We hope you enjoy this successive play-back of the short, personal vignettes and anecdotes of Linebacker II veterans!
PODCASTS - LINEBACKER II 50TH ANNIVERSARY (4 Part Series)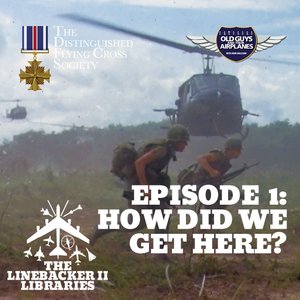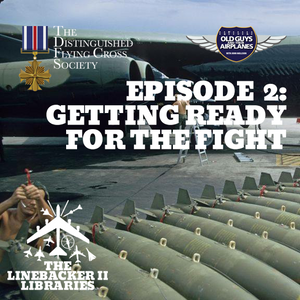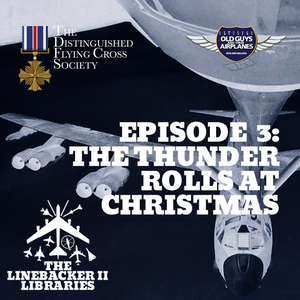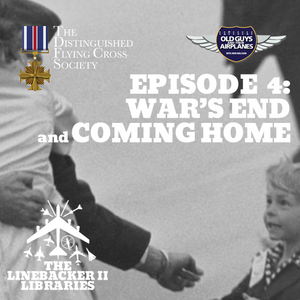 EPISODE 1: HOW DID WE GET HERE?

GUESTS:  Woody Gilliland, USMC and Bruce Huffman, US Army
Monday, October 17, 2022
DFC recipients Woody Gilliland, USMC and Bruce Huffman, US Army, share their insight into the Vietnam War leading up to the Linebacker Operations. Gilliland made the unusual jump from first tour as a combat platoon officer and returning as a pilot of a Bell AH-1G Cobra gunship. Huffman began his flight career flying the iconic UH-1 "Huey," then being accepted in the Aero Scout program flying the OH-6A "Loach" in search & destroy missions. Both veterans address some of the mythology behind Vietnam War veterans in addition to describing their own service.
EDUCATOR'S SUPPLEMENT:
CLICK HERE FOR THIS EPISODE'S EDUCATOR'S SUPPLEMENT (.pdf)
EPISODE 2: GETTING READY FOR THE FIGHT
GUEST: Karl Eschmann, USAF

Monday, October 24, 2022
Karl Eschmann is unusually qualified to speak about the extraordinary efforts - from ground crew to mission planning to actual flight ops - behind the Linebacker I and II Operations. Eschmann managed the ground operations of two F-4 squadrons during the Vietnam War and continued in the USAF in weapons technology and logistics. Eschmann also wrote the acclaimed book on Linebacker Operations, "Linebacker, the untold story of the air raids over North Vietnam.
EDUCATOR'S SUPPLEMENT:
CLICK HERE FOR THIS EPISODE'S EDUCATOR'S SUPPLEMENT (.pdf)
EPISODE 3: THE THUNDER ROLLS AT CHRISTMAS

GUESTS:  Bill Arcuri, USAF and Kim Morey, USAF
Monday, October 31, 2022
DFC recipient, POW and B-52 pilot William "Bill" Arcuri and Kim Morey, PhD and B-52 tailgunner share their perspectives as crew who partook in B-52 missions over Hanoi during Linebacker II. Arcuri's B-52, "Quilt One," was shot down by a SAM missile during the 20 December mission, resulting in his being one of the Operation's first casualties. Morey flew a total of five combat missions during the Operation including targets over Hanoi, Haiphong and just north of the DMZ. Arcuri and Morey describe their particular moments as well as offer broader insight into bomber operations and crew roles.
EDUCATOR'S SUPPLEMENT: CLICK HERE FOR THIS EPISODE'S EDUCATOR'S SUPPLEMENT (.pdf)
EPISODE 4: WAR'S END AND COMING HOME
GUESTS:  POWs Robert Certain and wife Robbie & George Allen Rose and wife Becky
Monday, November 7, 2022
DFC recipients and POWs Robert Certain (B-52 Navigator) and George Allen "GAR" Rose (F-4 pilot)  describe the events of their shoot-downs, capture and captivity in the "Hanoi Hilton" prison system.  However, both men's wives — Robbie Certain and Becky Rose also participate in the episode, bringing crucial insight into 'the lives back home.'Certain's B-52, "Charcoal 01," was the first B-52 downed over Hanoi during Linebacker II, 18 December 1972.  Rose was already in the North Vietnamese prison system having been shot down earlier in 1972 when his F-4 Phantom was hit while performing the dangerous "chaff mission" role.Special note:  Rose's son Glen is featured in this Podcast's icon as he greets his father upon return from Vietnam in 1973.  Glen also makes commentary as part of this episode's pre-recorded sound clips.
EDUCATOR'S SUPPLEMENT:
CLICK HERE FOR THIS EPISODE'S EDUCATOR'S SUPPLEMENT (.pdf)