Officers & Board of Directors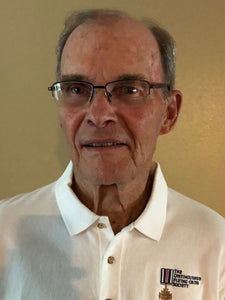 Woody Gilliland, Chairman of the Board
Woody Gilliland entered healthcare administration as a second career in 1991 and has served as the President/CEO of hospital's in Gainesville, Georgia; Lewisburg, Tennessee and Abilene, Texas. He currently serves as the President of the West Texas Rehabilitation Center Foundation, an endowment supporting pediatric and adult rehabilitation patients.
Woody retired from the U.S. Marine Corps as a Colonel following a 26-year career. He held a number of Command and Staff positions and accumulated more than 4,000 flight hours. He served two tours in Vietnam, first as an infantry platoon commander then a  subsequent tour as a Marine Aviator.
He is a graduate of West Texas State University and completed an MBA from Marymount University, Arlington, Virginia while attending the National War College, Washington, D.C.
Woody is a member of the American College of Healthcare Executives; the USMC Combat Helicopter Association; the Marine Corps League; the Marine Corps Aviation Association and M.O.A.A. He serves as a Commissioner, appointed by Governor Greg Abbott to the Texas Military Preparedness Commission.
Chuck Sweeney, President/CEO
Chuck Sweeney was born in Philadelphia, Pennsylvania and graduated from St Josephs University. Following two years in the Defense Industry, Chuck entered the Navy in 1958 as an Aeronautical Engineer. While at Patuxent River, Maryland he got the urge to fly and joined carrier aviation. Chuck's began flying S-2E aircraft from CVS-10.  He received his MS in Aeronautical Engineering at Monterey, and subsequently transitioned to jets, ultimately flying the A-4F with VA-22. His tour with VA-127 was shortened by a deployment with VA-212 as Executive Officer where he was awarded three DFCs in one week while flying strikes against North Vietnam followed by two tours on COMNAVAIRPAC Staff split by two years on the USS Constellation as Strike Operations Officer. 
Retiring in 1980, Chuck served 22 years in the Defense Industry working mostly on advanced programs/systems primarily at General Dynamics and BAE Systems where he retired in 2004. 
He joined the DFC Society in 2001 and since then he has been deeply involved with the organization as Vice President and President of the Lindbergh Chapter and on the Board of Directors. He was involved with the Conventions in 2006 -2019. He has spearheaded the Oral History Program, the DFC Book and branding and has been President and CEO for the past eleven years. Chuck currently lives in Coronado, CA.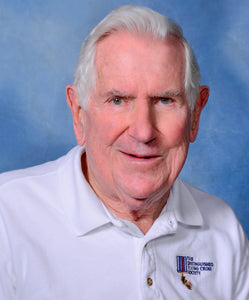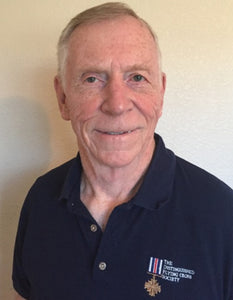 Warren Eastman, Executive Vice-President
Warren Eastman was commissioned as an AFROTC Honor Graduate at New Mexico State University in 1969 where he was Cadet Wing Commander. An outstanding Graduate of USAF Navigator Training in 1970, he served as a fighter aircraft Weapons System Officer (WSO), flying the F-4 Phantom II in the active duty Air Force, the Air National Guard, and the Air Force Reserve, and the F-15 Eagle in the Air Force Reserve. He flew 270 combat missions in the F-4E in two combat tours in the Vietnam War, based at Korat and Udorn, Thailand, awarded two DFCs. He was the first AF Reservist aircrew to fly the F-15E Strike Eagle in flight test and to serve as a Deputy Operations Group Commander/Director of Flight Operations at Edwards AFB. He retired from the AF Reserve in 2000. His civilian career was in aerospace engineering, primarily in flight test at Edwards AFB. He has a PhD in Aeronautics and Astronautics from the University of Washington and several technical Masters degrees. Elected to the DFC Society Board of Directors in 2018, he served as the Reunion Committee Chairman for the 2019 Reunion in Dayton OH.
Pat Owen, Treasurer
Pat earned his BA from the University of California, Irvine CA in May of 1981 in Geography. His military experience includes USMC 1965- 1986 Going from Private to Sergeant, and 2nd Lt. to Lt. Col. Assignments include Air Traffic Controller, AH-1G and AV8A/C pilot. He was assigned to the first Marine Cobra squadron (HML-367) in RVN, and helped stand up the first Marine attack helicopter squadron (HMA-169) in 1972. Transitioning to the AV8A Harrier in 1974, he is the only aviator to serve in the first two attack helicopter squadrons and the first three Harrier squadrons. He finished his military career assigned to the AV8 Program Manager's office 1984-1986.
His military awards include the DFC, Air medal w/V (4), and 53 strike flight air medals.  Between 1987-1990 was the owner/operator of a 600-acre multi crop and cattle operation in Montana and served as the International Affairs Coordinator, Montana Governor's Office from 1990-1994. Since 1994, Pat was a Financial advisor/First VP, Dean Witter/Morgan Stanley retiring in 2018.
He has served the Marine Corps League since 1992 and has held various minor leadership positions at the detachment level, board member of the Marine Corps League of PA Foundation, board member of the US Marines Youth Foundation and Financial advisor for the Marine Corps League.
He has served as the Treasurer to the Distinguished Flying Cross Society since 2016.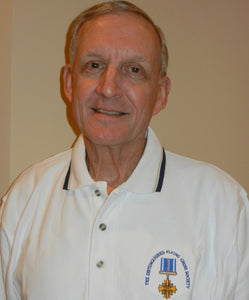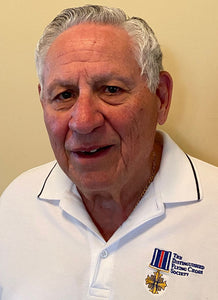 Marty Lenzini, Vice-President for Chapter Development
Mr. Lenzini is a Marine Corps Combat Veteran with 47 years' experience in Aviation and the Defense Industry. He has held a variety of leadership positions within the Marine Corps and
Industry.
Mr. Lenzini retired from the US Marine Corps with the rank of Colonel after a 26-year career. He Commanded both a Squadron and a Marine Aircraft Group and was qualified in the A-4, A-6, EA-6B, A-7 and the F-4 Aircraft. He flew 350 Combat missions in Vietnam and was awarded 4 DFCS and 24 Air medals. He was also active in Research and Development within the Service
as a Development Coordinator for Attack Weapons in the Department of the Navy and a Project Test Pilot for Missile Test and Development at NAS Point Mugu.
He earned his undergraduate degree in Mechanical Engineering at the University of New Mexico and an Advanced degree in Aeronautical Engineering at the Naval Post Graduate School in Monterey CA. He also a graduate of the Naval War College and the National War College.
Mr. Lenzini worked at Hughes / Raytheon Missile Systems in Tucson for 21 years after his service in the Marine Corps. He was a project manager in Advanced Programs and a Senior Program Manager for Air-To-Ground Weapons.
He is currently the President of the Charles M Walling Tucson Chapter of the DFC Society and a Member of the Board of Directors. He is also active in the Friday Pilots and is the Treasurer of Missile Systems Retirees Association.
Lewis Watt, Secretary
Lewis received a civil engineering degree from Tufts University in1962 and a MSA degree from the George Washington University in 1972. His twenty-six-year Marine Corps Career included two combat tours in outheast Asia, five years as a test pilot at Patuxent River, MD, and tours in Washington. Lewis flew a hundred different type/model/series of aircraft, four of them on his thousand hours of combat sorties. His assignments include command of the Cherry Point, NC, Aviation Depot, and Program Manager for the AV-8B Harrier program. Leaving the Corps, Lewis tried various R&D and management positions at the Applied Research Lab, PSU, co-founding RLW Inc.  The company was acquired in 2008 by Impact Technologies LLC; Impact was acquired by Sikorsky Aircraft Company. Lewis teaches freshman engineering courses at Penn State.
Lewis lives in State College, Pennsylvania with Judith, his wife of forty-five years. Their daughter and two granddaughters live in Las Vegas, Nevada. Lewis' hobbies include hunting and his farm in Hoosick, New York.
Lewis' awards include: Legion of Merit (2 awards); meritorious Service Medal; Distinguished Flying Cross; Air Medal (29 awards); and Joint Service Commendation.
Lewis is a member of the Royal Aeronautical Society, the American Society of Mechanical Engineers, and The Distinguished Flying Cross Society.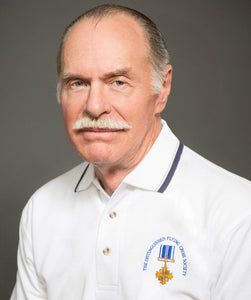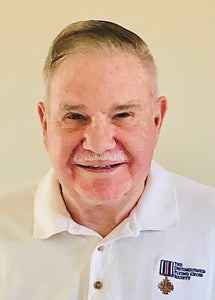 Ron Bartlett, Director
Ron Bartlett graduated with a BA degree in English with minors in math, physics, and chemistry from Waynesburg University. He later earned a Masters Degree in International Relations from Cal State University. Enlisting in the Air Force as an intelligence analyst when drafted in 1968, he then went to Officer Training School in 1970.
After graduating from USAF Navigator Training, he went on to the Electronic Warfare Officer course. Ron was on a SAC combat crew flying in B-52s during Vietnam and later as an instructor Electronic Warfare Officer. He flew nearly 100 combat missions including two over Hanoi, North Vietnam in the Linebacker II Campaign in December 1972. Working in the intelligence community
most of his career, Ron had another flying tour as mission director on our nation's top airborne reconnaissance platform, the RC-135.
Ron served as commander of an intelligence collection squadron in the Philippines and was selected as the Air Force Fellow for the Director of the National Security Agency (NSA). He ran the Air Force Intelligence Command's liaison to Strategic Air Command (SAC). Ron commanded the Cryptologic Support Group in the SAC underground command post and during that period supported Desert Storm/Desert Shield on a 24/7 basis. Over the span of his career, he was involved in 32 wars or crises. His last assignment was to the NSA where he was responsible for Support to Military Operations.
After retirement from the USAF in 1995, Ron founded a financial planning firm and was partner with his son in Bartlett Financial in Lexington SC. He retired again at the end of 2017. In 2019 Ron joined the Board of Directors for the Red River Valley Association, the River Rats, and serves as their national Treasurer.
Bob Certain, Director
Robert Certain was born in Savannah, Georgia in December 1947. An alumnus of Bethesda- Chevy Chase High School in Maryland, he attended Emory University in Atlanta, Georgia, graduating in 1969 with a BA degree in History and a regular commission in the US Air Force.
He was trained as a navigator at Mather AFB CA (Class 70-16), then as a radar navigator when complete, before electing to fly B-52Gs at Blytheville AFB AR. As a B-52 navigator he flew 100 missions over Southeast Asia in 1971 and 1972. He was shot down and captured in December 1972; and repatriated when the war ended a few months later. He retired from the Air Force in 1999 at the rank of Colonel. During his career he was awarded the Legion of Merit, Distinguished Flying Cross (Heroism), Bronze Star (Valor), Purple Heart (1 OLC), Meritorious Service Medal, Air Medal (4 OLC), Prisoner of War Medal, Air Force Commendation Medal, Vietnam Service Medal, and the Republic of Vietnam Cross of Gallantry.
Since 2007 he served on the Defense Health Board, on its committees on psychological health and medical ethics, and on the DOD Task Force for the Prevention of Suicide by Members of the Armed Forces. He also served on the VA Advisory Committee on Former Prisoners of War from 2008-2018 and as its chairman for five years. He served on the Board or Directors of the Military Officers Association of America and is currently the national commander of the American Ex- POWs. In 2014 he was inducted into the Georgia Military Veterans Hall of Fame.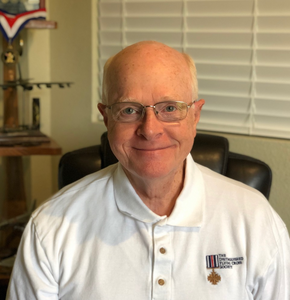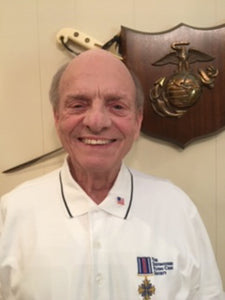 Rick Graham, Director
Following graduation from Texas A&M University in 1966, Rick served as an officer in the United States Marine Corps, attaining the rank of Captain. During his tour of duty in Vietnam, he served as an aerial observer while flying in OV-10 Bronco, 01- Bird Dog and all helicopters where he was responsible for the rescue of troops on the ground, downed aircraft pilots and crew, aerial reconnaissance, intelligence gathering, and enemy combat missions. He is the recipient of the Distinguished Flying Cross, Navy Commendation Medal with Combat V, and seven Air Medals among other military awards.
After leaving the Marine Corps, he earned a Doctor of  Jurisprudence degree in 1973 from Texas Tech University School of Law. He resides in Dallas, TX, where he has an active law practice which has produced many honors including his election as a Fellow of the Texas Bar Foundation.
Rick and his wife of over 50 years, Donna, enjoy their family – two married sons and seven grandchildren. They are active in their community. In addition to his currently active and successful legal career, he has served in many civic capacities including: Three time Past President of North Texas Distinguished Flying Cross Society, Chairman of the 2017 National Distinguished Flying Cross Reunion Convention in Dallas, East Dallas Exchange Club President, Salesmanship Club Board of Directors, and Dallas Summer Musicals President and Chairman of the Board. Also, he has served many volunteer hours for numerous committees and organizations connected with his college alma mater, Texas A&M University. In 2013, he was honored to be inducted into the Texas A&M University Corps of Cadets Hall of Honor.
Jim Markel, Director
Jim Markel spent 7 Years on active duty in the United States Marine Corps and 3 years in the Ready Reserve. He was a "Mustang" (former enlisted) and went from being a PFC in a 105MM Howitzer Battery to a Captain/Flight Leader in an All-Weather F-8 Crusader Squadron in Five Years.
He holds an ATP with 10-Jet Type Ratings ranging from the Learjet to the Boeing 747. He is a graduate of the University of Southern California Viterbi School of Engineering Aviation Safety Management Course and a long-term member and active contributor to the Flight Safety Foundation, Experimental Aircraft Association, Aircraft Owners & Pilots Association, and F-8
Crusader Association.
Jim chaired fund-raising committees for the Make-A-Wish-Foundation, Little League, & United Way. His Corporate Boards history includes GE Capital's Corporate Aircraft Advisory Board and a two-term Chairman of the National Aircraft Resale Association (International Aircraft Dealers Association). He also was elected Commodore of The Marin Yacht Club after eight years' service as a Director & Committee Chairman.
He is the recipient of Distinguished Flying Cross, Five Air Medals, and Presidential Unit Citation. The FAA recognized him with the Wright Brothers Master Pilots Award.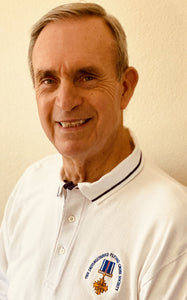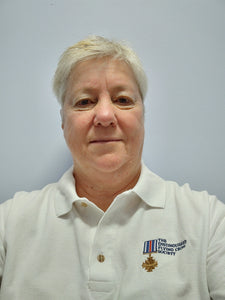 Patricia McFetridge, Director
Captain "Patti Mac" graduated from San Jose State University in 1981 with a degree in Aeronautical Operations. She began her flying career in Army's Warrant Officer Flight Training program.
In 1989, she joined the U. S. Coast Guard as a Direct Commission Aviator. At Kodiak, Alaska she primarily flew search and rescue (SAR) missions. Assignments include Clearwater, Florida flying in support of drug/migrant interdiction operations throughout the
Caribbean; Los Angeles, California flying in support of SAR and law enforcement (LE); Elizabeth City, North Carolina as a duty standing pilot and the Assistant EO, flying the HC-130H airplane in support of SAR, LE, and drug interdiction missions throughout the Caribbean and South America, and the International Ice Patrol mission; Borinquen, Puerto Rico as a qualified pilot, EO, Executive Officer, and Commanding Officer flying the MH-65B/C/D in support of SAR, LE, and drug/migrant interdiction missions.
In Washington, DC. She was the Chief of Logistics and Engineering for the Deployable Operations Group, responsible for 27 Deployable Specialized Forces in support of significant national security & oil spill events; Project Manager for the $1 Billion Rescue 21 installation to replace the aging legacy National Distress System throughout the U. S. and its territories. She currently serves as the Coast Guard's liaison to the Federal Aviation Administration.
She is the recipient of the Distinguished Flying Cross, Army & Coast Guard Commendation Medals, Achievement Medals, inter alia. She pursued a Master's in Aeronautical Science from Embry-Riddle Aeronautical University and earned her Master's in Quality Systems Management from the National Graduate School.
Allen Nuss, Director
20 Years US Air Force 1969-1989, 3500 hours total Flying Time: 638 hours Combat Viet Nam; 815 hours F-4 D/E; Navigator Instructor 2443 hours. Aircraft flown were: T-29 and T-43 Navigator Trainer; C-130B Viet Nam; F-4D Kadena AB Japan; F-4E Moody AFB, GA. F-4E 347th Tactical Fighter Wing Assistant Standardization and Evaluation Officer.
Electronic Warfare (EW)Test Engineer and Project Lead – ALQ-119 active jammer; QRC-80-01 active jammer; ALR-69 RWR; 28th Air Division Program Manager: ABCCC III Capsule modernization (wrote A-Specification to digitize Viet Nam era capsule), Compass Call active jammer; 28th Air Division Delta Force Reporting Officer.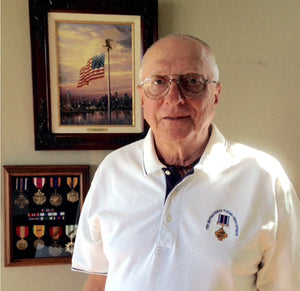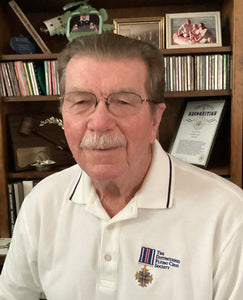 Phil Osterli, Director
Phil was born in Visalia, California (a second generation Californian) in August 1940, graduated from the University of California, Davis with a Bachelor of Science in Agronomy in January 1963, receiving an ROTC commission in the USAR. After a delay to attend graduate school, he entered active duty January 1, 1966. Upon completion of flight school was assigned to the 335 th Assault Helicopter Company in Vietnam, serving as an armed helicopter pilot, aircraft commander, and platoon commander January 1-December 24,
1967, compiling 586 combat hours (195 missions), earning a DFC, Air Medal (20 OLC), ARCOM, Presidential and Meritorious Unit citations, Vietnam Cross of Gallantry and Vietnam Service recognition.
After a year as a Tactics Instructor Pilot, he left active duty to return to graduate school at UC Davis, completing a Master of Science in Plant Genetics prior to accepting an academic position with the University of California Agricultural Extension, serving 16 years as a vegetable and row crop advisor, followed by another 16 years in administration; participating on committees and serving in leadership positions in the appropriate academic and professional societies/organizations, retiring after 32+ years of service in 2002, receiving Emeritus status. In 1969, he joined CALARNG part time (later USAR) serving in various flying, command and staff positions, retiring in 2000 at the rank of Colonel.
After retirement he and Linda moved to Poulsbo WA, cruising the Pacific Northwest in "Nordic Spirit", and served as Commodore of Poulsbo Yacht Club, Trustee of Recreational Boaters of Washington, President of District 1 Blue Gavel, and Trustee of the Poulsbo Sons of Norway Lodge during their 18 years in residence.
He is a Life Member of DFCS, MOAA, VHPA, VFW, currently resides in SaddleBrooke, AZ and is an active member of the Charles M. Walling Chapter in Tucson and the Friday Pilots. He and Linda enjoy the active retired lifestyle as well as visiting family (6 kids, 14
grandkids) and friends scattered around the country.
Randy Thurman, Director
Randy Thurman graduated from Virginia Polytechnic Institute with BA Economics degree and was later named Virginia Tech Distinguished Graduate. He also received a MA degree in Management from Webster University and he is a graduate of the Wharton Corporate Governance Program.
Randy served as a USAF pilot from 1971 to 1977, flying over 140 FAC missions in Vietnam and Cambodia. He was awarded the DFC, 8 Air Medals, Vietnam Cross of Gallantry and the Air Force Commendation Medal. Randy later served as a class commander and standardization/evaluation pilot in the allied Middle East advanced jet training program. Randy graduated from the USAF Air Command and Staff College; Squadron Officers School and USAF SERE School. He later flew in the Pennsylvania Air National Guard. He is a licensed Airline Transport Pilot and U.S. Coast Guard Captain.

After his USAF service, Randy went on to a highly distinguished career as a corporate executive, primarily in life sciences and pharmaceutical companies. Randy has been the President, Rhone-
Poulenc Rorer Pharmaceuticals Inc., Chairman and CEO, Corning Life Sciences Inc., and Founder, Chairman and CEO, VIASYS Healthcare Inc. Currently, he is Executive Chairman, Outlook
Therapeutics Inc.; Director, uMethod Health Inc.; Vice Chairman, Syntone Biotech. Randy serves on the board of the Villanova University Law School and Scarpa Center for Entrepreneurialism and Law.

Randy and his wife, Karen, reside in suburban Philadelphia along with their 3 children and 7 grandchildren. He and his wife are founders of The Giving Tree Foundation which primarily supports charitable organizations in South Africa and the greater Philadelphia community.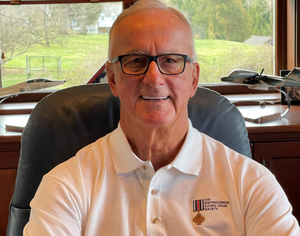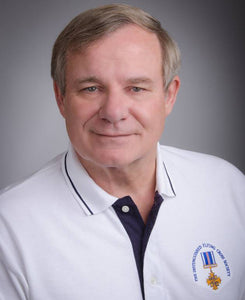 J. Bruce Huffman, Chairman Emeritus
J. Bruce Huffman recently finished his term as the Chairman of the Distinguished Flying Cross Society on Dec 31, 2020.
While attending Nicholls State University, Thibodaux, LA Bruce joined the U.S. Army in 1967 for the Warrant Officer Flight Training Program (WORWAC). He received a direct commission as a 2nd Lieutenant during his Viet Nam tour.
Serving as both a lift pilot and an aero scout team leader with Charlie Troop 1/9th Cavalry, 1st Air Cavalry Div. (AM), he was awarded the DFC, Bronze Star, Air Medal w/V (3 OLC), 22 Air Medals, Army Commendation Medal w/V (1 OLC), and the Vietnamese Cross of Gallantry. Bruce left active duty in the 1970's but continued to serve during 25 years of continuous aviation service in the National Guard and Army Reserve; he retired in 1998, after 31 years in uniform, with the rank of Colonel.
In his civilian career he lived in Iran with his young family, while instructing in AH-1J Cobras, for Bell Helicopter. He later served and retired from the IBM Corporate Flight Department. He also served as the early Managing Director of NetJets Europe, in Lisbon, and he would go on to lead several corporate flight departments. Presently, he is the founder and President of Flight Assurance LLC.
His undergraduate degree is from Embry-Riddle Aeronautical University, in Professional Aeronautics, and he holds a Masters degree in Instructional & Performance Technology from Boise State University. He is a member of Phi Kappa Phi Honor Society and a number of military and veteran's organizations.
Michael O'Neil, President Emeritus
O'Neil was born in Worcester, Massachusetts. At the young age of seventeen, he joined and served four years in the United States Navy from 1962-1966. He entered the United States Army in 1967, attended basic training and AIT; graduated from Infantry Officer Candidate School in 1968 as a commissioned Second Lieutenant, earned his Army helicopter flight wings in 1969, and transitioned to AH-1G Cobra helicopter. He deployed in February 1970, to D/227 AHB – Lai Khe, 3 Corps Republic of Vietnam. O'Neil finished his Vietnam tour with F Troop 1/9 Cav. He received the Distinguished Flying Cross for actions on 1 May 1970, in the Republic of Cambodia.
By the time O'Neil left Vietnam, he had accumulated 1,250 combat flying hours in the AH-1G Cobra. After Vietnam, he was stationed in Italy as XO of the 6th Aviation Detachment in Vicenza, Italy. He resigned his commission, after 10 years of service, to become test pilot for the Shah of Iran with Agusta Bell in Tehran, Iran.
O'Neil returned to the United States in 1975 where he graduated from Worcester University Massachusetts with a BS in Environmental Studies; obtained his real estate agent and broker's license; and owned and operated several video retail and wholesale stores. O'Neil wanted to give back to his fellow veterans and became very involved with PTSD issues.
In 1995, he moved to San Diego, California and joined the Distinguished Flying Cross Society in 1996. O'Neil worked closely with the Society's founder, Al Ciurczak, and its founding members. Jack Mates, first Chairman for the Society, mentored O'Neil. They worked together in bringing the Society into the electronic world. He implemented the first electronic record keeping of members; created the first website; edited the DFCS Newsletter and  implemented the first electronic version on the website; worked with Chuck Sweeney and Ruth Mayer on the DFC Painting (which hangs in the San Diego Air and Space Museum). He served nine years on the Board as Vice President and President and served as Chairman of Membership. He feels one of his biggest accomplishments was bringing Chuck Sweeney
onto the national Board of Directors.
O'Neil is honored and grateful to have served the Society for twenty-four years. He is proud of the accomplishments of the past Directors and thankful for the current Directors, as they continue the vision of the Society.
O'Neil returned to the East Coast in 2018 and lives in central Florida with, Beverley, his wife of 45+ years. They have a son, Timothy, and daughter, Dawn Marie and two grandchildren, Kendyll and Alex. Kendyll and husband, Jesse, gave them a great-grandson, Waylon, in 2019.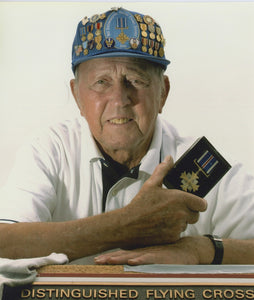 Al Ciurczak, Founder
9 Mar 1921 - 7 Feb 2006
Al enlisted in the U.S. Army Air Corps as a private in 1938 when he was seventeen and retired years later as a Captain. He saw action during World War II as an aerial gunner and combat cameraman flying in B-24's with the 11th Air Force in the Aleutian Islands.
He flew 36 combat missions and was awarded the Distinguished Flying Cross on two occasions for heroism in aerial flight. One of his DFCs was awarded for helping to save his B-24 from crashing after the copilot was hit in the face by a Japanese shell and the copilot was hit in the arm and Al tended to the copilot after pulling him out of his seat.
He received a direct commission during the Korean War and spent his last ten years in the Air Force as a Producer/Director and then continued after retirement as a Producer/Director for the Air Force for many years winning awards and producing training films. After retiring for the second time, he spent his time building his house in Capistrano Beach and started looking into locating an organization that was dedicated to the DFC.
Unable to locate any such organization, Al commenced the enormous task of founding the DFC Society. He started out with ads in various magazines as well as a handwritten letter campaign and finally contacted several people who helped him with his quest. After much hard work, the IRS on June 6, 1994, gave its approval for a non-profit, tax free veterans organization to The Distinguished Flying Cross Society. Of course, this was just the beginning of the work but without Al's tenacity and dedication, we wouldn't be where we are today.
Mary Ellen Park, Membership Services