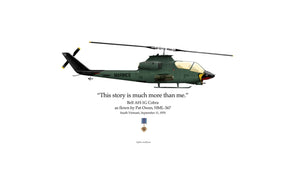 PLEASE NOTE:  ONE PRINT PER ORDER PLEASE
We regret the limitations but quantity is limited.  The one-print-per-order will be upheld.  
Print is 13" x 19" inches, printed on archival grade paper and varnished to help protect image from UV rays.  Pricing is offered at $100 per print* (plus shipping & handling);
Print also includes a signed letter of authenticity from The Distinguished Flying Cross Society, Chairman of the Board; and
Please know that though each print is also signed and numbered by the artist (John Mollison), the print number received by the purchaser is based on time of order; the DFC Society is unable to honor requests for specific numbers.
The print's title, "This story is much more than me.," reflects USMC pilot Pat Owen's insistence that his survival in combat and success as a leader are distinctions that he merely received on account of a larger effort.
Owen is quick to point out that aircraft and the missions they perform are often complicated and have inherent risks.  Yet, when executed with professionalism and personal integrity, they result in successes that rest on an individual's lap.  This sense of 'greater team' has established Pat as a leader in both military and civilian life.
Would you like to make an additional donation as part of your purchase?