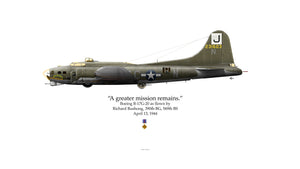 PLEASE NOTE:  ONE PRINT PER ORDER PLEASE
We regret the limitations but quantity is limited.  The one-print-per-order will be upheld.  
Print is 13"x 9" inches, printed on archival grade paper and varnished to help protect image from UV rays.  Pricing is offered at $100 per print* (plus shipping & handling);
Print also includes a signed letter of authenticity from The Distinguished Flying Cross Society, Chairman of the Board; and
Please know that though each print is also signed and numbered by the artist (John Mollison), the print number received by the purchaser is based on time of order; the DFC Society is unable to honor requests for specific numbers.
The print's title, "A greater mission remains,""A greater mission remains," reflects Col Richard Bushong's position as one of last surviving B-17 pilots and the need to further the Greatest Generation's contribution to history.
Well into his late 90s, Col Bushong has remained a steadfast champion of the history of WWII, appearing weekly at the renown 390th Memorial Museum in Tucson, Arizona.  His good cheer, enthusiasm and uncommon leadership are an inspiration to the Museum's many visitors as well as an inspiration to anyone who is in a position to further a goal or objective.
Would you like to make an additional donation as part of your purchase?