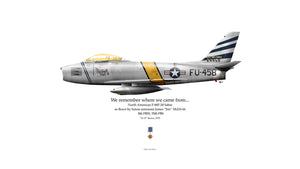 PLEASE NOTE:  ONE PRINT PER ORDER PLEASE
We regret the limitations but quantity is limited.  The one-print-per-order will be upheld.  
Print is 9" x 13" inches, printed on archival grade paper and varnished to help protect image from UV rays.  Pricing is offered at $100 per print* (plus shipping & handling);
Print also includes a signed letter of authenticity from The Distinguished Flying Cross Society, Chairman of the Board; and
Please know that though each print is also signed and numbered by the artist (John Mollison), the print number received by the purchaser is based on time of order; the DFC Society is unable to honor requests for specific numbers.
The print's title, "We remember where we came from…" reflects Gemini and Apollo Astronaut James McDivitt's deep satisfaction and respect for the days as a Korean War fighter pilot where he learned leadership and team playeredness.
McDivitt requested that his service be remembered for the time when he was establishing the skills and virtues necessary to be selected for the extraordinarily prestigious role as a NASA astronaut and commander.  Thus, the Korean War fighter, the North American F-86F, is his touchstone to the beginning of a career that represents the pinnacle of 20th Century achievement - space travel.
This print contains a hidden image that is revealed under certain lighting conditions.
Would you like to make an additional donation as part of your purchase?