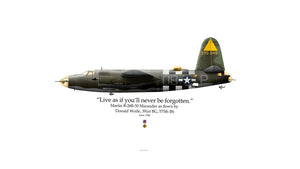 PLEASE NOTE:  ONE PRINT PER ORDER PLEASE
We regret the limitations but quantity is limited.  The one-print-per-order will be upheld.  
Print is 13" x 19" inches, printed on archival grade paper and varnished to help protect image from UV rays.  Pricing is offered at $100 per print* (plus shipping & handling);
Print also includes a signed letter of authenticity from The Distinguished Flying Cross Society, Chairman of the Board; and
Please know that though each print is also signed and numbered by the artist (John Mollison), the print number received by the purchaser is based on time of order; the DFC Society is unable to honor requests for specific numbers.
The print's title, "Live as if you'll never be forgotten." reflects USAAF B-26 pilot Donald Wolfe's sense that every action, great or small, deserves considering as a marker of posterity.
From his South Dakota roots to insistence on representing his Generation's service to future generations, Don Wolfe has maintained a sense of intentional living.  The B-26 Marauder is fantastic proof that every task must be done to its best — once considered a 'widow maker' of an aircraft on account of its high accident rate in training, the Marauder ended up with the lowest combat loss of any regularly deployed American bomber on account, in part, of the high performance required of its crew.
Would you like to make an additional donation as part of your purchase?