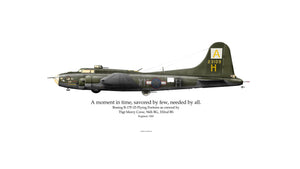 PLEASE NOTE:  ONE PRINT PER ORDER PLEASE
We regret the limitations but quantity is limited.  The one-print-per-order will be upheld.  
Print is 13" x 19" inches, printed on archival grade paper and varnished to help protect image from UV rays.  Pricing is offered at $100 per print* (plus shipping & handling);
Print also includes a signed letter of authenticity from The Distinguished Flying Cross Society, Chairman of the Board; and
Please know that though each print is also signed and numbered by the artist (John Mollison), the print number received by the purchaser is based on time of order; the DFC Society is unable to honor requests for specific numbers.
The print's title, "A moment in time, savored by few, needed by all.," reflects TSgt Morry Crow's service to WWII during it's especially dark days.
Morry was a Flight Engineer during the 8th Air Forces hardest days of WWII — loss rates were unsustainable, morale was low and Hitler's war machine at its peak effectiveness.  Yet, he prevailed, unwilling to let his fellow crew down and see the world succumb to tyranny.  He was credited with one aerial victory — a moment that haunted him in life as a terrible, but essential price to pay in the scope of war.
Would you like to make an additional donation as part of your purchase?