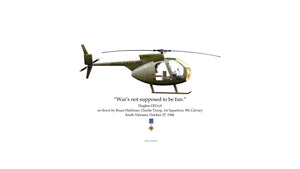 PLEASE NOTE:  ONE PRINT PER ORDER PLEASE
We regret the limitations but quantity is limited.  The one-print-per-order will be upheld.  
Print is 9" x 13" inches, printed on archival grade paper and varnished to help protect image from UV rays.  Pricing is offered at $100 per print* (plus shipping & handling);
Print also includes a signed letter of authenticity from The Distinguished Flying Cross Society, Chairman of the Board; and
Please know that though each print is also signed and numbered by the artist (John Mollison), the print number received by the purchaser is based on time of order; the DFC Society is unable to honor requests for specific numbers.
The print's title, "War's not supposed to be fun." reflects Bruce Huffman's service as one of the daring, yet critical, Aero Scouts of the Vietnam War.
Bruce Huffman's mission as an Aero Scout brought him low and close to the North Vietnamese Army and Viet Cong, often forcing gun-battles reminiscent of the Wild West.  The glamor of combat and high performance of his OH-6 "Loach" helicopter did not offset the risk of the mission.  To this point, Bruce emphasizes the need for professionalism, focus and excellence in every endeavor, especially those that have the highest risk.
This print contains a hidden image that is revealed under certain lighting conditions.
Would you like to make an additional donation as part of your purchase?