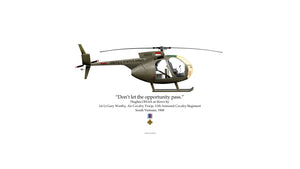 PLEASE NOTE:  ONE PRINT PER ORDER PLEASE
We regret the limitations but quantity is limited.  The one-print-per-order will be upheld.  
Print is 13" x 19" inches, printed on archival grade paper and varnished to help protect image from UV rays.  Pricing is offered at $100 per print* (plus shipping & handling);
Print also includes a signed letter of authenticity from The Distinguished Flying Cross Society, Chairman of the Board; and
Please know that though each print is also signed and numbered by the artist (John Mollison), the print number received by the purchaser is based on time of order; the DFC Society is unable to honor requests for specific numbers.
The print's title: "Don't let the opportunity pass."" reflects US Army "Aero Scout" pilot Gary Worthy's desire to purchase and fly a vintage helicopter of the kind he flew during the Vietnam War.
Worthy's experience as an Aero Scout in Vietnam put him up-close-and-personal with an angry, aggressive enemy.  To that point, he was dramatically wounded in a harrowing shoot-out, resulting in award as well as permanent injury. 
However, having survived wounding and post-war determination to succeed in business, Worthy believed that the legacy of the Vietnam War veteran is like anyone who must triumph over adversity — there are personal decisions to act on opportunity that define anyone's path.
This print contains a hidden image that is revealed under certain lighting conditions.
Would you like to make an additional donation as part of your purchase?