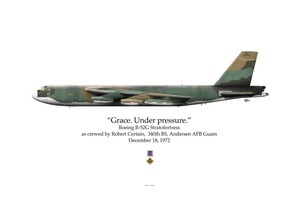 PLEASE NOTE:  ONE PRINT PER ORDER PLEASE

We regret the limitations but quantity is limited.  The one-print-per-order will be upheld.  
Print is 13"x 9" inches, printed on archival grade paper and varnished to help protect image from UV rays.  Pricing is offered at $100 per print* (plus shipping & handling);
Print also includes a signed letter of authenticity from The Distinguished Flying Cross Society, Chairman of the Board; and
Please know that though each print is also signed and numbered by the artist (John Mollison), the print number received by the purchaser is based on time of order; the DFC Society is unable to honor requests for specific numbers.
The print's title, "Grace. Under Pressure," reflects Col Robert Certain's extensive training, exacting service and triumph over challenging times. As the first recorded casualty of the extraordinary Operation "Linebacker II" Certain had to endure the full brunt of the consequences of the campaign that would ultimately bring the Vietnam War to an end. Captivity's pressures left a mark resulting in a personal "dark night of the soul." Nevertheless, through the love of family and support of a brotherhood, Certain removed the "Disorder" of Post Traumatic Stress, resulting in a career that included Chaplaincy of the USAF Academy, headship of Church Diocese and authorship of the exceptional memoir, "Unchained Eagle."

Today, Certain is a living example of the humility, tenacity and Grace supporting any person's triumph over difficult times.
Would you like to make an additional donation as part of your purchase?