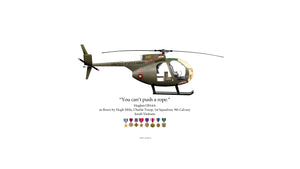 PLEASE NOTE:  ONE PRINT PER ORDER PLEASE
We regret the limitations but quantity is limited.  The one-print-per-order will be upheld.  
Print is 9" x 13" inches, printed on archival grade paper and varnished to help protect image from UV rays.  Pricing is offered at $100 per print* (plus shipping & handling);
Print also includes a signed letter of authenticity from The Distinguished Flying Cross Society, Chairman of the Board; and
Please know that though each print is also signed and numbered by the artist (John Mollison), the print number received by the purchaser is based on time of order; the DFC Society is unable to honor requests for specific numbers.
The print's title, "You can't push a rope" reflects Army "Aero Scout" Hugh Mills' particular philosophy on maintaining high standards of command.
Hugh Mills remains one of the most highly decorated Vietnam War veterans, having been awarded just about all (save the Congressional Medal of Honor).  Post-war, Mills went on to serve in law enforcement with exceptional distinction as well — strong, confident yet possessing of the peculiar humility that so many of high achievement have, he expresses his leadership style as one that is successful because he 'pulls from the front' rather than 'pushes from the back.'
This print contains a hidden image that is revealed under certain lighting conditions.
Would you like to make an additional donation as part of your purchase?